Illinois Information
French explorers first visited the Illinois region in 1673 by travelling down the Mississippi River, and the Ohio River brought many settlers westward to southern Illinois in the 19th century. Illinois became the 21st state in 1818, and most of the native Americans were forced out of the state by the 1830s. Chicago, the most populous Midwestern city, has become an economic powerhouse and a major rail, road, air transport, and shipping hub. Goods are shipped between Chicago and Atlantic Ocean ports via the Great Lakes and Saint Lawrence Seaway; goods are barged between Chicago and the Gulf of Mexico via rivers and canals.
Authored by seh. Last updated 2014-10-28 12:19:06.
Illinois Map


Illinois is the 24th largest state in the USA, bounded by the states of Wisconsin, Indiana, Kentucky, Iowa, and Missouri. Visit this site to learn more about the state, and find printable maps of Illinois.

www.illinois-map.org/

Illinois Directory


Learn about Illinois's demographics and economy, and use the Categories Menu to find businesses and other organizations in Illinois.

www.regionaldirectory.us/illinois.htm

Illinois Real Estate Guide


Learn about rural, suburban, and urban real estate markets in Illinois. Real estate agents, buyers, and sellers will appreciate the Illinois real estate resources on this page.

www.local-real-estate.com/illinois.htm

Illinois Atlas


Illinois state history, geography, and travel information are the subjects of this Illinois atlas page.

www.onlineatlas.us/il.htm

Illinois Road Map (Illustration)


This Illinois map page features a detailed, scalable road map of Illinois, as well as Interstate highway routes, scenic byway information, and state road department links.

www.illinois-map.org/road-map.htm

Chicago, Illinois Skyline (Photograph)


Captioned online picture and description of the Chicago, Illinois skyline at dusk, with the Chicago River waterfront in the foreground.

www.onlineatlas.us/gallery/chicago.htm

1921 Sears Catalog (Photograph)


This cover of the Sears Roebuck catalog (1921 edition) shows the Sears Roebuck Company headquarters building in Chicago, Illinois. American shoppers, especially in rural areas, used this mail order catalog to purchase many of life's basic necessities.

www.CatalogShopping.us/sears-catalog.htm

Indiana Map


Indiana is the 38th largest state in the USA, bounded by the states of Kentucky, Ohio, Illinois, and Michigan. Visit this site to learn more about Indiana, and view printable maps of Indiana.

www.indiana-map.org/

Iowa Map


Iowa is the 23rd largest state in the United States, bordered by Minnesota, Missouri, Wisconsin, Illinois, South Dakota, and Nebraska. Visit this site to learn more, and find printable maps of Iowa.

www.iowa-map.org/

Kentucky Map


Kentucky is the 36th largest state in the United States, and is bordered by Indiana, Tennessee, West Virginia, Missouri, Ohio, Virginia, and Illinois.

www.kentucky-map.org/

Missouri Map


Missouri is the 18th largest USA state, bordered by Iowa, Arkansas, Kentucky, Kansas, Illinois, Tennessee, Nebraska, and Oklahoma. Visit this site to learn more about Missouri and find printable maps of the state.

www.missouri-map.org/

Wisconsin Map


Wisconsin is the 25th largest USA state, bounded by Lake Superior to the north, Illinois to the south, Minnesota and Iowa to the west, and Lake Michigan and the state of Michigan to the east.

www.wisconsin-map.org/

Pinterest - Illinois Board


This gallery page features selected Illinois images, including the state flag, a locator map, and various travel photos.

www.pinterest.com/onlineatlas/illinois/
Illinois Directory Page(s)
Illinois News
Illinois Image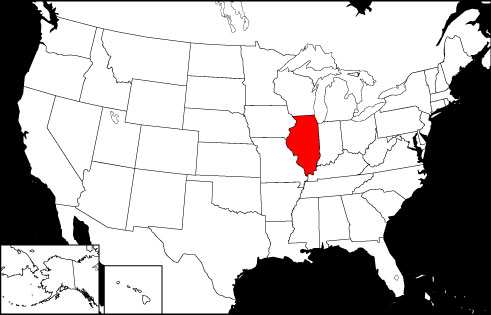 Illinois Locator Map
---
Copyright © 2012-2023 Word-Cloud.org. All rights reserved.