Alaska Information
The United States purchased Alaska from Russia in 1867, at a price of about two cents per acre! Many people thought that Secretary of State William Seward, the primary negotiator, was foolish to buy the far northern territory of Alaska, even calling it "Seward's Folly". But over the years, Alaska proved to harbor valuable natural resources. Gold was discovered in the Klondike, and extensive petroleum deposits were found in Alaska's North Slope region.
Authored by seh. Last updated 2014-10-31 16:48:13.
Alaska Directory Page(s)
Alaska News
Alaska Image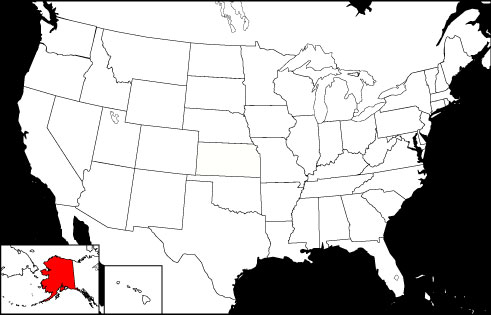 Alaska Locator Map
Alaska Bibliography
Golden, Fran Wenograd, and Jerry Brown. Alaska Cruises & Ports of Call. New York, NY. Wiley Publishing. 2003.
Swaney, Deanna. Alaska. New York, NY. Dorling Kindersley Publishing. 2006.
---
Copyright © 2012-2022 Word-Cloud.org. All rights reserved.