Song Information
A song is a composition of words set to music and performed with instruments or voice alone. Some songs contain words of a rhyming nature, while others do not. Songs can be divided into many different styles, including a cappella (without musical instrument accompaniment), blues, country, pop, rhythm and blues, and rock, among others. Often, songs consist of an introduction, verse, chorus, and bridge.
Authored by AH. Last updated 2015-02-06 16:39:59.
Amazing Grace


Amazing Grace is one of the most popular hymns today, even several centuries after its writing. Find the words to this well-known gospel song written by John Newton.
www.gospel-songs.org/amazing-grace.htm

Gospel Songs


Public domain gospel songs are featured on website Gospel-Songs.org. These songs and hymns can be freely used in Christian gatherings, gospel meetings, and hymn sings.
www.gospel-songs.org/

Bass Guitar String Fingering (Digital Video)


A musician deftly fingers the strings of his bass guitar as he strums a song.
vimeo.com/71102420
Song Directory Page(s)
Song News
Song Premiere: Tinsley Ellis' "Sound of a Broken Man"


The blues guitar hero shares a track from his upcoming album—and the Tao of the wah-wah according to Tom Dowd.
Premier Guitar. Tue, 12 Dec 2017 06:00:00 -0500.

2018 Porsche 718 Cayman and Boxster GTS First Drive Review


Few automakers play the options game as cleverly as Porsche. No matter what model you're looking at, the siren song of the Porsche configurator is ready to lure you onto the rocks of financial ruin. ...
Angus Mackenzie. Motor Trend. Thu, 07 Dec 2017 09:00:26 +0000.

Australia Day change-the-date anthem named best song


Indigenous hip hop group A.B. Original take home a swag of gongs from the SA Music Awards, including the prize for Best Song for the track January 26.
Matthew Smith. Australian Broadcasting Corporation. Fri, 10 Nov 2017 12:45:49 +1100.
Song Image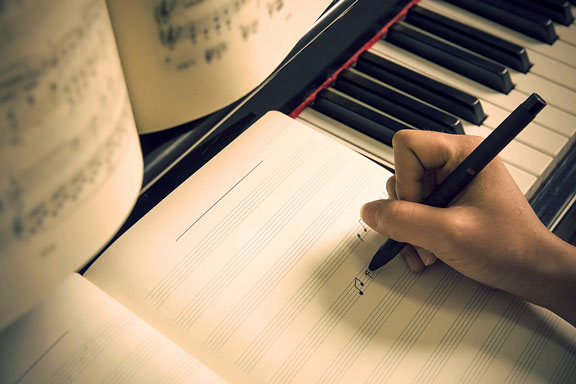 Song Writer Composing a Song at the Piano
Song Bibliography
Osbeck, Kenneth. 101 Hymn Stories. Grand Rapids, MI. Kregel Publications. 2012.
Osbeck, Kenneth. 101 More Hymn Stories. Grand Rapids, MI. Kregel Publications. 2013.
Zollo, Paul. Songwriters on Songwriting. Boston, MA. De Capo Press. 2003.
---
Copyright © 2012- Word-Cloud.org. All rights reserved.